Construction Management
DSA Construction Management

North Texas Construction Management
Construction Site Supervision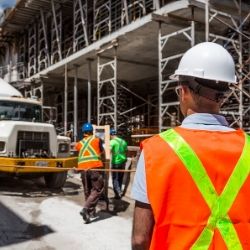 A qualified and experienced Job Superintendent from DSA Construction Management will be assigned for the on-site full-time coordination and monitoring of the work. He will make daily reports to the DSA's office. DSA Construction Management will check and approve all invoices, payrolls, and contract payments. A construction cost statement will be prepared and furnished to the owner monthly.

Upon approval by owner for the start of construction, an onsite full-time Job Superintendent will be assigned (with the Owner's approval) to the project for the day-to-day coordination of construction operations. The Job Superintendent and the DSA's Project Manager work hand and glove with material scheduling, trade contractors' schedule time line, and process payments to trade contractors, change orders and shop drawing review for approval. Working together, both establish the site organization and line of authority, the coordination procedures and schedules as well as hold frequent meetings where problems can be resolved.

Regular meetings with the owner's representative will be held for any changes and/or updated information that is to be reviewed. Monthly progressive payments will be reviewed, approved and prepared for owner's approval. All payment vouchers will be prepared by DSA and made payable direct form the owner to the trade contractor and/or supplier. In most cases a negotiable voucher (check on owner's account) is prepared by DSA Construction Management, ready for owner's signature. This is assurance to the owner that all monies will be going direct to each trades contractor working on the project.

On a monthly basis DSA Construction Management will provide a documented cost progressive payment print-out showing all monies paid for that thirty (30) day interval which will also indicate the monies and balances to pay to each respective discipline of contracted work.
Project & Construction Management
Innovative Solutions To Meet And Exceed Our Clients' Expectations
Construction Management handles the planning, coordination, and execution of a construction project and the Construction Managers (CM) at DSA Construction Management are there to help ensure your construction project is completed on-time and on-budget. DSA Construction Management provides the full spectrum of program and project development services across the State of Texas in a wide range of market sectors including K-12 Education, Justice Facilities, Public Buildings, Healthcare, Higher Education, and more.
At DSA Construction Management, we exceed our client's needs by managing projects from an owner's perspective and by applying new technologies designed to reduce risk and improve outcomes and successes. Our Construction management solutions ensure that we cover every aspect of your project, from start to finish while advocating for your best interest and the success of your project. 
Their competency can only be rivaled by their cost-effectiveness.
They definitely have the owners interest in mind at all times.
DSA Construction Management exhibits many wonderful characteristics such as confidence, professionalism, dependability, patience, etc.
...if needed, they will be at your doorstep as soon as humanly possible.
Do you need help with your Construction Project?
Let the Construction Management professionals at DSA Construction Management handle your next construction project